Joseph and the Amazing
Technicolor Dreamcoat
October 28-30, 2005
Joseph and the Amazing Technicolor Dreamcoat is a rainbow ride through biblical Egypt with uplifting music by Andrew Lloyd Webber (Cats, Phantom of the Opera, Evita and Sunset Boulevard) and with the humor and poetry of lyricist Tim Rice (Aladdin and The Lion King). This irresistible musical about the trials and triumphs of Joseph, Israel's favorite son, paints a picture of betrayal and hardship, prophecy and forgiveness.
The musical spotlights Broadway star Patrick Cassidy as Joseph and American Idol's Amy Adams as the Narrator. Patrick Cassidy, fresh from his Broadway appearance in 42nd Street has had a career that spans the world of stage, film and television. With audiences exceeding 30 million people, the hit show American Idol has created a new breed of superstar in Amy Adams.

This Biblical cantata – actually a mix of rock, country, vaudeville song-and-dance, French ballad and calypso – relates the Old Testament tale of Joseph and his coat of many colors with plenty of laughs for everyone.
---
Buy Tickets
Friday, October 28, 8 p.m. $52.50, $47.50, $40.00, $32.50
Saturday, October 29, 2 p.m. & 8 p.m. $52.50, $47.50, $40.00, $32.50
Sunday, October 30, 2 p.m. $52.50, $47.50, $40.00, $32.50
Sunday, October 30, 7:30 p.m. $47.50, $42.50, $35.00, $27.50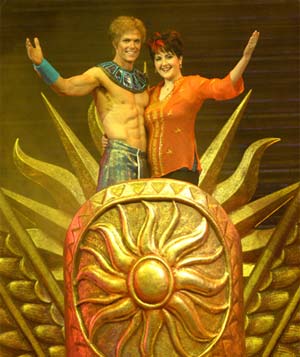 Patrick Cassidy as Joseph and American Idol's Amy Adams as the Narrator