In 2002, the Akron Civic Theatre underwent the most extensive restoration and expansion project in its 75-year history. The $22.5 million dollar project included an expansion of the lobbies, new concession area and additional restroom facilities. (Click here to see details of renovation project)
The project upgraded the Civic's ability to serve patrons with special needs by increasing handicapped seating and by adding a new patron elevator. The stage was expanded from 26 feet to 40 feet and a cross-over space behind the stage's back wall was added, the dressing rooms were completely renovated, a freight elevator and a new loading dock were also added in order to bring the theater up to modern performance standards.
Other improvements included an upgraded sound system and the entire infrastructure of the theater was modernized, including the electrical service, plumbing, HVAC and the roof's exterior masonry.

Capital Campaign Naming Opportunities remain available, contact:

Brenda Cummins
Development Officer
Akron Civic Theatre
182 South Main Street
Akron, OH 44308
Phone: (330) 535-3179
Fax: (330) 535-9828
E-Mail: brendacummins@akroncivic.com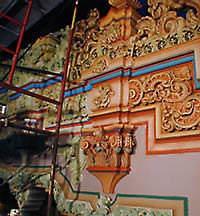 A close up picture of the restoration of the proscenium arch above the stage.